Specialists in Equestrian Pest Control
Amazon Jack has extensive knowledge and experience with horses and on farms.
Our eco friendly Equestrian Pest Control Services combine exclusion methods with natural and synthetic products in an extremely efficient rotation protocol. This not only makes them safer for human and horses, it also difficult for pests learning to resist them.
PERIMETER TREATMENT:
Perimeter spray around the property
Water Treatment of ponds lakes and canals: Bacterial treatment (Safe for animals)
OUTSIDE THE BARN:
Exterior Barn Walls Treatment
Manure/ Moisture Treatment
INSIDE THE BARN:
Interior Barn Walls Treatment
Misting Systems in Stables: We use the up most safe and natural Amazon Jack Proven Misting Formula
Our programs also include a comprehensive and systematic training method for the equestrian staff, as well as a continuous follow up.
Triple Amazon Jack Protection
Because we understood how to apply the treatment in an efficient and friendly way, we use 3 application levels with different kind of products
We focus our Equestrian Pest Control on 3 different levels, and we call them the Triple Amazon Jack Protection.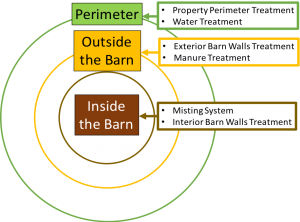 Pest Control Misting System in Horse Barn

In Amazon Jack we offer the latest technology stress-free mosquito control and nuisance insect control solution. Using our Amazon Jack proven formula with our Mosquito Misting Systems you can eliminate mosquitoes, flies, ticks, spiders, and more!
First, we installed the Cube PRO, an elegant and small 26 cu inch 55 gallon tank, customizing the circuit for in house, barn or business to get the best possible results.
This Misting System can easily mist up to 80 nozzles. It comes with a program digital controller, a long-range remote control, and a high pressure, 300 psi, pump and motor which can easily mist up to 80 nozzles. The agitator and daily stir cycles ensure a consistent misting solution in every misting cycle. An anti-siphon valve stops solution from emptying if tubing accidentally gets cut.
All the components fit securely inside the small 26 inch Cube.
We can keep the System plugged in continuously or just to recharge. With state-of-the-art-technology, this flying insects control system has a battery backup to mist for more than 2 weeks if you lose power.
If you don't have an outlet close by, we can add the optional low profile solar panel and mist away.
Our Amazon Jack Formula is natural and safe for you, your kids and pets. Bayer Laboratory tests have proven our products to be extremely effective at killing and repelling flying insects and it is optimized depending on your needs.
Our clients
We are delighted to provide 100% satisfaction in Equestrian Pest Control Services in Farms located specially in the West side o Palm Beach County in cities like Wellington and Loxahatchee but also in Palm Beach Gardens, Lake Worth, West Palm Beach, and DelRay.
With one call you will experience the benefits of our superior services in Pest Control including Flies Control, Lawn and Ornamental, Rodents and Mosquito Control in your Equestrian Facility.